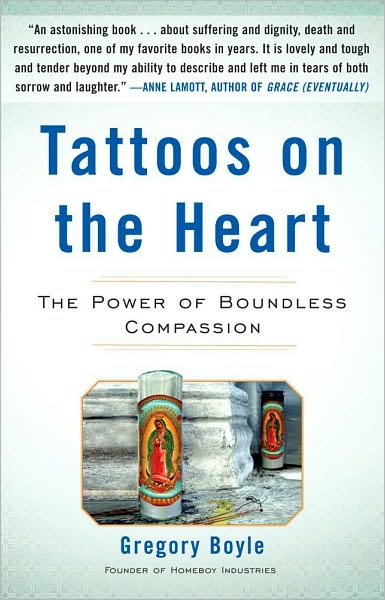 The Power of Boundless Compassion
by Gregory Boyle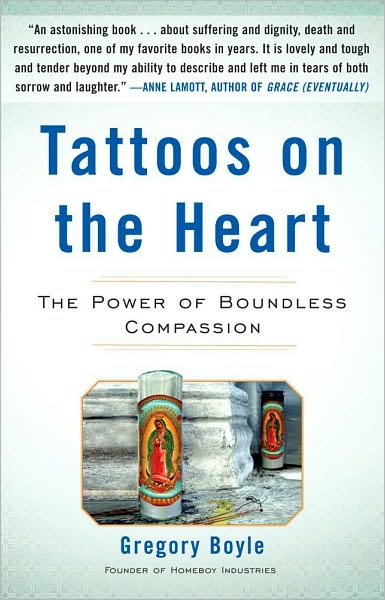 William Blake wrote, "We are put on earth for a little space that we might learn to bear the beams of love."
Father Boyle, Founder of Homeboy Industries, adds, "Turns out this is what we all have in common, gang member and non-gang member alike: we're just trying to learn how to bear the beams of love." (p. xiii).
If you have ever had trouble loving yourself or others, inspiration for expanding our capacity for unconditional love fills the pages of Tattoos on the Heart, The Power of Boundless Compassion.
One of the bravest, most humane, heartbreaking, brilliant, and hopeful stories I've read in ages.  Father Greg, the Gandhi of the Gangs, fills Tattoos with unquenchable soul force and down-to-earth love.
— Jack Kornfield, Author of A Path with Heart
In Tattoos on the Heart, Father Boyle (called "G" by his "homies"), tells story after story of gang members who against all odds came to know and love themselves, and establish productive lives, sometimes even then to be stopped by a bullet.  At a funeral a parishioner asks Father G, "…what's the point?"
Father G: "It was a good question, worthy of a response. I told that packed church that Luis was a human being who came to know the truth about himself and liked what he found there."
Read the NPR Fresh Air interview with Father Boyle.
For me the message is that only we can hone our ability to stay in a place of love.  Only we can further develop our capacity to love ourselves and to love one and other.
Mark Torres, S.J., beloved spiritual guide at Homeboy Industries says, "We see in the homies what they don't see in themselves, until they do." (p. 178)
I cannot more highly recommend this compelling read — Tattoos on the Heart is one of my all time favorites!
https://www.ginnywinn.com/wp-content/uploads/TattoosOnTheHeart.jpg
600
385
Ginny Winn
https://www.ginnywinn.com/wp-content/uploads/ginny-winn-mft-logo-1000.png
Ginny Winn
2011-02-02 23:53:53
2011-05-27 20:10:42
Tattoos on the Heart