A Sure Way To Polish Up Your Attitude of Gratitude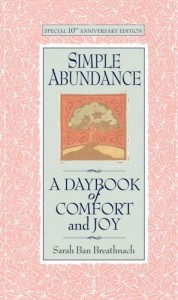 One of the treasures in my extensive, passionate, daily reading, research and studies is an exercise I found in Simple Abundance: A Day Book of Comfort and Joy by Sarah Ban Breathnach. Compelled by the fact that the book was gift from my loving daughter, I eagerly began doing (you don't just read you do) one page for each day of the year.  I read, "…all the other principles that can transform your life will not blossom and flourish without gratitude." and that a gratitude journal is a must. Immediately I committed to completing five times every night for a year, "I am grateful for_________".
Experience the feelings that go with your expressions of gratitude.  Ask yourself, "Where am I feeling this in my body—is it in my throat, chest, abdomen?"  Scan your body Notice your breathing.
I continue to this day to write or mentally scan my day and now easily find at least five events for which to give thanks.  Still sometimes resistance comes, "I don't want to, don't have to, who cares, not tonight, I'm too tired."  But I persevere, and the reward is instant! Over time giving thanks has become easier and easier and an exercise I cherish.
Psychological, philosophical, and spiritual teachers repeatedly prescribe gratitude.  Neuroscientists prove it is true that by practicing gratitude you can positively change your emotional/feeling state, your mind, and your life.
In Letter to My Daughter Maya Angelou tells a story of how, in practically suicidal despair, she finally goes to the studio of her mentor and voice teacher, Frederick Wilkerson:
Wilkie said, "Sit right down here at this table, here is a yellow pad and here is a ballpoint pen.  I want you to write down your blessings."
I said, "Wilke, I don't want to talk about that.  I'm telling you I'm going crazy."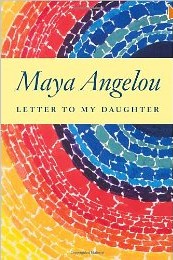 He said, "First write down that I said write down, and think of the millions of people all over the world who cannot hear a choir, or a symphony, or their own babies crying.  Write down I can hear—Thank God.  Then write down that you can see this yellow pad, and think of the millions of people around the world who cannot see a waterfall, or flowers blooming, or their lover's face.  Write I can see—Thank God.  Then write down that you can read.  Think of the millions of people around the world who cannot read the news of the day, or a letter from home, a stop sign on a busy street, or…."
I followed Wilke's orders and when I reached the last line on the first page of the yellow pad, the agent of madness was routed.
That incident took place over 50 years ago.  I have written some twenty-five books, maybe 50 articles, poems, plays, and speeches all using ballpoint pens and writing on yellow pads.   (Maya Angelou, Letters to my Daughter, chapter 11)
Use any form of writing instrument, pad, journal or scrap of paper you can or want to, but write!  Commit to at least two months. The action of writing your thoughts and feelings will help bring them to consciousness  so that you are able to make good choices, experience the mind/body feelings and enhance your ability to create the life you desire.
Let me know how this goes — I'd love to hear from you!
https://www.ginnywinn.com/wp-content/uploads/Simple_Abundance_1.jpg
500
297
Ginny Winn
https://www.ginnywinn.com/wp-content/uploads/ginny-winn-mft-logo-1000.png
Ginny Winn
2011-08-25 05:07:35
2011-09-20 03:21:58
A Sure Way To Polish Up Your Attitude of Gratitude